After opening his own firm, Jason Chaliff mentors brokers new to real estate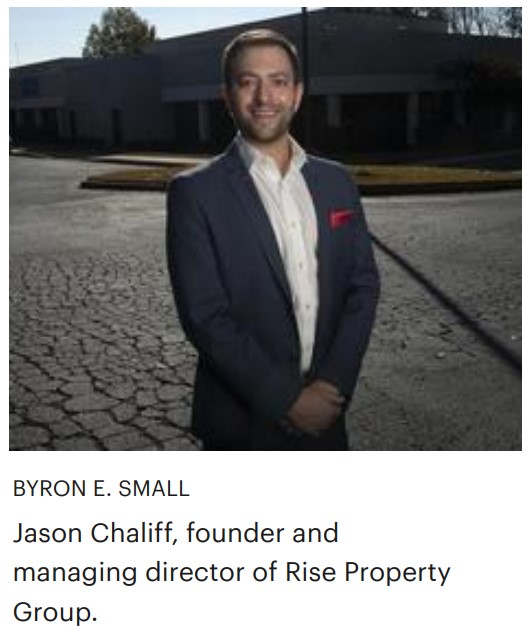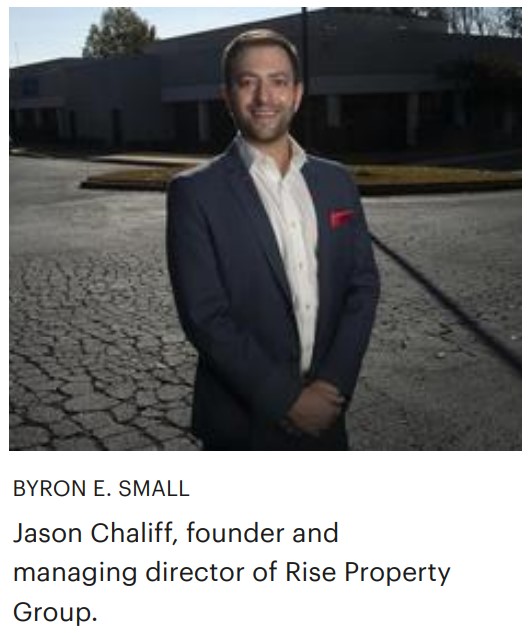 After nearly a decade working in commercial lending, Jason Chaliff was ready for a new challenge.
The former banker saw opportunities in commercial real estate. Chaliff went back to school for a master's degree at Emory University's Goizueta School of Business, after which he entered the industry as a commissiononly broker with a small investment firm.
In 2020, the Atlanta native founded his own brokerage firm, Rise Property Group. Chaliff mentors and empowers a team of eight brokers, many of whom are young newcomers to real estate. He spends the rest of his work week repurposing industrial and flex office buildings under Denali Investment Group, which he created with business partner Michael Godin in 2021.
Who was the biggest influence in your career? My mother, Marla, has had a tremendous impact on my career. She is a principal at a commercial real estate development company. As one of the few women in the development business, she has overcome many challenges to achieve success in the industry. Marla taught my siblings and me lessons on resilience, tenacity and patience. She encouraged me to start my own company. Having a family member established in commercial real estate is an incredible privilege. It has motivated me to be a positive influence on the careers of many young professionals in our industry.
What is the biggest challenge in your career? The biggest challenge is motivating agents to leave their comfort zones and trust the proven process of being a successful agent. It takes 12-18 months of cold calling, rejections and tough clients to find financial success as a broker. This period can be quite difficult, as it's hard to pay the bills with little or no income. There will be many times in this period where an agent "sees the light" of a large potential commission only to be disappointed when the transaction does not occur. It takes true enterprise and perseverance to build brokerage momentum, but this tough time is something every successful
broker has faced, myself included.
What's the most rewarding part of your job? The most rewarding part of my job is coaching and mentoring young agents. It is quite difficult to find the right personality for brokerage. It takes grit and hustle, as well as analytical and sales skills, to succeed. Finding a candidate that is personable – and more importantly trainable – is always a challenge. Helping a new agent close their first transaction, become financially independent and develop a great reputation in the industry is highly rewarding.
What's the hardest business lesson you've learned? To lose with grace and stay resilient. Success in the commercial real estate industry is a marathon, and it is imperative to understand that many (if not most) transactions will not occur. The best deals take years to close. There are countless others that do not happen, usually for reasons well outside of one's control. Remaining stoic while practicing persistence is critical.
What's the key to maintaining strong relationships with clients Maintaining honest, transparent relationships is key to developing productive long-term relationships. A broker must act in their client's best interest, which might not result in the highest fee to the agent. It is imperative to maintain the long view. The best relationships will have dozens of transactions but it only takes one mishandled transaction to destroy trust.
How do you try to stand out from other brokerage firms in Atlanta? Being a relatively young firm, we must be innovative and energetic to compete in a crowded market. Our agents utilize cutting-edge technology in creative ways to best market our inventory. Social media and mass communication allow us to instantly connect with the local real estate and business communities. We utilize our background in finance and development to properly understand property valuations and execute in what is becoming a challenging economic environment.
How has having a young staff benefited your company? I believe our team – though relatively young in age – has the tools, experience and hustle to outcompete any of our peers. Many of our agents grew up with technology and they have the necessary skill set to utilize complex data with ease. This has given Rise an edge in research and marketing, which greatly benefits our clients. However, I stress to my young agents that technology is an important tool but it will never replace the importance of personal relationships. We combine traditional methods with the latest in technology to service our clients.
What advice would you give a young broker or investor just now entering the industry? A real estate professor at University of Georgia once told me, "The connections you make now will be the people you do business with for the rest of your life." The CRE industry is a relatively tight-knit community, and most of my clients are people I have known for many years. Top performers in the industry never stop networking. If making new friends is something you find easy and enjoyable, this is an incredible career path.
You have a soft spot as an investor for converting old buildings into new uses. What area of Atlanta do you see the most opportunity for new adaptive-reuse projects? Atlanta, given its continued growth, is a city with tremendous opportunity for adaptive reuses. Our downtown market has tremendous potential, with great highway access and public transportation. Finding the right formula to convert office to mixed-use should breathe new energy into Downtown Atlanta. Personally, we see opportunity in converting single-tenant facilities in Atlanta's suburbs to multitenant facilities. Atlanta continues to have strong small business growth and we are focusing our efforts to serve this market.
Jason Chaliff
Born in: Atlanta
Lives in: Midtown
Age: 35
Current job: Managing director and founder, Rise Property Group and Denali Investment Group
Previous job: Vice president of commercial lending, Wells Fargo and Truist Bank
Education: Bachelor's of business administration in real estate, University of Georgia; MBA, Emory University's Goizueta School of Business
Family: Parents Michael and Marla; younger siblings Pamela and Ryan
Hobbies: Skiing, Georgia football, Formula 1, "aspiring Jeopardy contestant"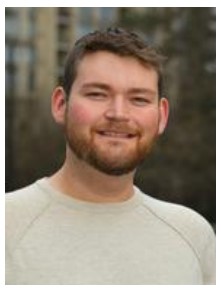 Tyler Wilkins
Reporter
Atlanta Business Chronicle